About Us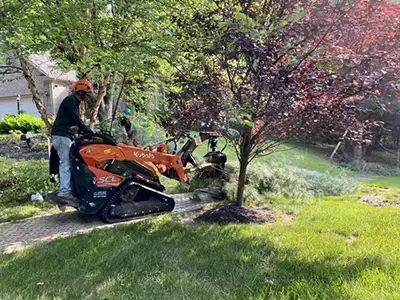 Benfield Tree Service is the premier Pasadena, Maryland, and local tree care company. Our company aims to offer unmatched tree maintenance services in terms of professionalism, efficiency, thoroughness, and price. We recognize that every customer has specific needs. As a result, we pay close attention to what you have to say and craft tailor-made answers to your questions. In addition to removing trees and vines, pruning trees, grinding stumps, and clearing lots, our team of expert arborists also provides various other tree care services to cover all your needs.
Our team places a premium on paying close attention to detail. We give each tree our undivided attention and care, ensuring they all get the best treatment possible. We stand by the excellence of our work and the satisfaction of every one of our customers.
We think it's essential that tree care be reasonably priced and its why we provide economical solutions without sacrificing security or quality. Because our prices are low and our estimates are free, you can rest assured that you will get the most for your money. We are a licensed and insured business that strives to provide excellent service to each one of our clients. Our team handles each job with the highest care and expertise, and we take every measure to protect our client's property.
We at Benfield Tree Service know how much value trees can provide to your home or business. Our team of professionals is committed to providing exceptional and individualized tree care services to preserve the health and vitality of your trees, increase the value of your property, and guarantee your safety. Interact with various customers, such as homeowners, property managers, real estate developers, and commercial enterprises. Our team of skilled arborists has supplied outstanding tree care services to keep our clients' trees healthy, safe, and visually appealing.
Our strategy is predicated on developing enduring bonds with our customers, and we make it a point to go above and beyond their expectations consistently. We invest in getting to know their demands to deliver tailored solutions. We've assisted many property owners in keeping their trees healthy and beautiful, guaranteeing their homes are secure and aesthetically pleasing.
Our staff has worked with property managers to design thorough tree management programs to ensure the trees on their properties are well-maintained and per all requirements. Our company has previously worked with real estate developers, clearing lots and removing trees in preparation for building. We work hard to keep construction sites as undisturbed as possible by completing all tasks on schedule and without incident.
Many companies have come to rely on us because of our dedication to providing first-rate service; we keep the trees on their properties healthy and looking great. For these customers, we work closely to offer individualized strategies for tree care that are both effective and affordable. We are a professional and responsible company that follows eco-friendly work processes. All debris we collect from your property is recycled, and we take measures to minimize our environmental impact.
Your trees are essential to your property, and our firm understands the hassle of maintaining them. That's why we provide specialized tree care services tailored to your requirements. If you want to ensure your trees are healthy, safe, and beautiful, our arborists will work with you to find an individual solution.
We utilize state-of-the-art methods and tools to clear the land of trees and vines as efficiently and securely as possible. Benfield Tree Service looks forward to fulfilling your future tree service needs enthusiastically and meeting all your unique residential or commercial tree care needs.
We Provide Services to the Following Cities, Towns and Surrounding Regions of MD: