Tree Services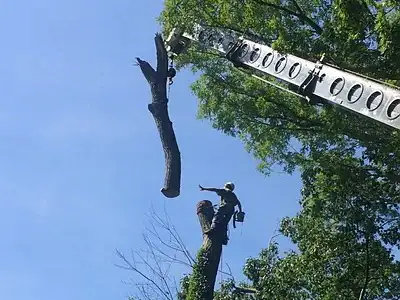 At Benfield Tree Service, we provide Millersville, MD, and the local communities with the highest quality tree care possible. Our professionals are committed to providing timely and trustworthy assistance that satisfies and surpasses the quality and security standards our clients have come to expect from us. Every customer is different, so we always take the time to cater to their requirements. We use cutting-edge methods and equipment to perform tree and vine removal, tree trimming, stump grinding, and lot clearance swiftly and safely. We are a fully licensed and insured company staffed by highly trained and qualified arborists who can solve any issue with your trees. Our goal is to increase the worth of your property by caring for your trees in a way that is unique to you. Our dedication to providing superior service has helped us build a solid clientele of residential and business customers.
Tree Removal
Keeping your property safe and healthy is crucial by removing dead or pest-infested trees. Sometimes, trees may even need to be removed if they're too close to your home's foundation. Storms can also damage your trees, and timely removal becomes crucial. However, tree removal isn't something you should try yourself. We have the experience needed for residential and commercial tree removal and our team handles projects of all shapes and sizes. We thoroughly approach our work, starting with a detailed inspection of the tree's condition. Even if a tree is infested with insects, we'll assess if salvaging it is possible before recommending any action. If salvageable, we may use non-toxic pesticide spraying to eliminate the bugs. Our work meets industry standards to ensure a safe and efficient process and always focuses on safety and efficiency. Read More About Tree Removal >>
Tree Pruning
We offer efficient and scheduled tree pruning services tailored to meet our client's needs. Our services include tree trimming, shaping, removal of dead, diseased, or overgrown branches, and crown reduction, thinning, and lifting. Our skilled arborists use state-of-the-art equipment to ensure the job is done safely and efficiently. We also provide formative pruning services to help young trees develop correctly and maintain their shape. Additionally, we offer dead-wooding services to remove hazardous deadwood that poses a risk to people and property. Our commitment to excellence guarantees our services will exceed your expectations. Our professionals are equipped with advanced tools and the knowledge and expertise to prune various types of trees. We understand that different trees require different techniques and approaches, and we tailor our services accordingly. Our experience and commitment to excellence ensure that your trees receive the best care possible. Read More About Tree Pruning >>
Vine Removal
Removing vines may seem simple, but it can be pretty challenging. That's why hiring a professional company like ours is crucial for vine removal services. There are several reasons why professional assistance is necessary. Firstly, identifying the type of vine can be difficult, and removing some vines can damage other plants, structures, or even buildings. Secondly, the removal process can be hazardous and may require specialized equipment and protective gear, which most people don't have. Furthermore, removing vines may require specific techniques and knowledge to ensure complete removal without the risk of regrowth. Lastly, companies like ours have the necessary experience and training to handle any vine removal job safely and efficiently, regardless of size. We prioritize safety, efficiency, and quality in all our vine removal services to ensure our clients are satisfied with the results. We cater to local residential and commercial clients and provide customized and affordable services. Read More About Vine Removal >>
Lot Clearing
Getting a lot ready for new structures or landscaping is standard for most projects. Lot clearing is a crucial part of this process when planning to give an empty plot some serious TLC or make significant renovations. With our lot-clearing service, we bundle several other services you'll need to get the job done right. Our team knows precisely what to do, and we have all the equipment necessary to do it quickly and efficiently for commercial and residential projects. Before starting any construction project, you must clear the land of potential safety hazards, including vegetation. Our service includes removing all the trash and debris left behind. We use modern tools like chippers to break down anything left behind and cart it away to a responsible disposal location. This approach guarantees you'll have a clean slate to work on in the shortest possible time at the most cost-effective pricing. You will also find that our lot-clearing services are very affordable. Read More About Lot Clearing >>
Stump Grinding & Removal
We recognize that stump removal can be tedious and challenging, especially if you attempt to do it yourself. That's why we offer professional and reliable stump grinding and removal services that are not only efficient but also cost-effective. Our team of experts is equipped with the latest tools and techniques to ensure we get the job done right the first time. We take pride in providing high-quality services catering to your needs and budget. With years of experience in the industry, we know how to handle even the most complicated stump removal projects easily. You can trust us to remove those unattractive stumps from your yard, leaving behind a clean and uninterrupted landscape. Let us help you enhance the beauty of your property by removing those unsightly tree stumps. We can handle all projects and cater to residential and commercial clients and no job is too big or small for us. Read More About Stump Grinding & Removal >>
We are reliable, committed, and skilled in all aspects of tree services, so you know you are getting value for money when you hire us. We also work hard to create the best experiences for our clients, which is why we have many repeat customers. No matter how big or small the job we are here to help with the best and most cost-effective services. If you are looking for superior tree services like tree removal, tree pruning, vine removal, lot clearing, or stump grinding and removal, please call Benfield Tree Service at 410-969-2066. You will find that our team is knowledgeable and friendly and will provide services that align with your needs while within your budget. You can also email your queries and service requests via this Online Form, and we will get back to you soon to understand your project specifics. You can trust us to handle all your tree service requirements, efficiently, professionally, and affordably.
We Provide Services to the Following Cities, Towns and Surrounding Regions of MD: